How to Create a Riot Games Account for LOL: Wild Rift?
LOL Mobile: Wild Rift
Date: Jan/05/21 15:08:41
Views: 661
Are you new to LOL: Wild Rift? Don't you have a new Riot Games Account yet? Here is everything you need to know about Riot Account, but the most important of which is to tell you how to create a Riot Games account for LOL: Wild Rift.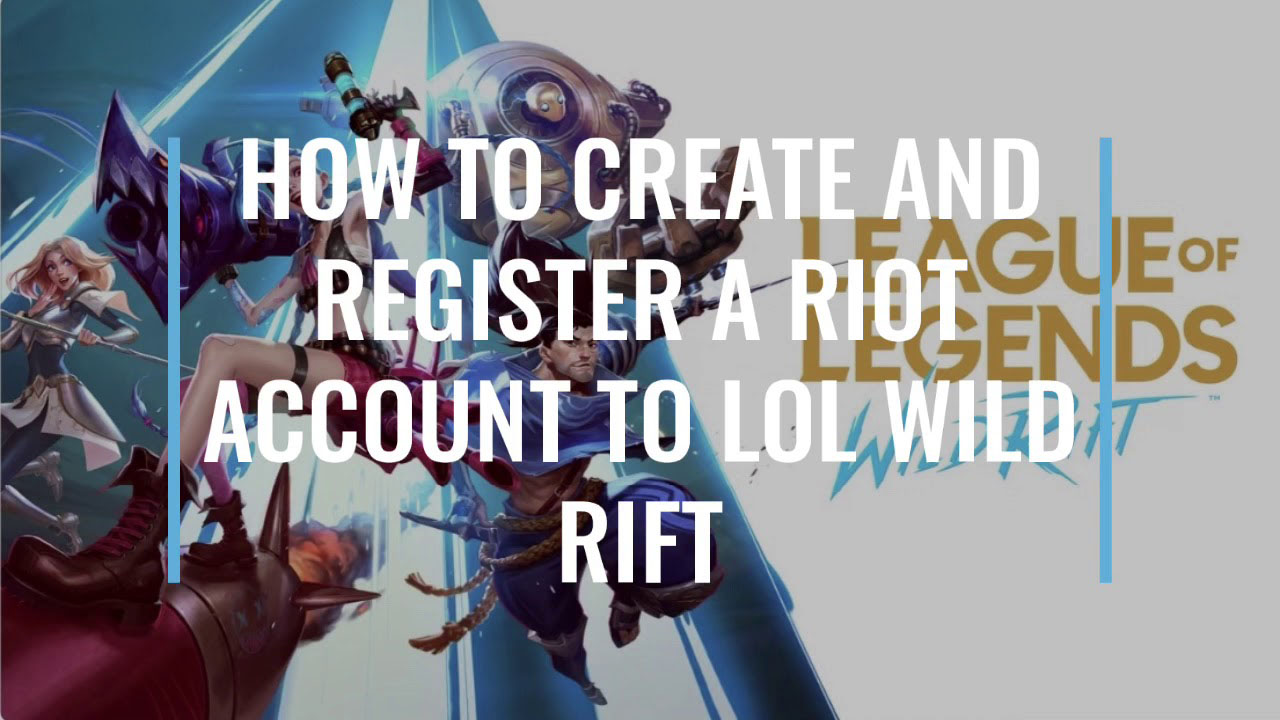 What's a Riot Account?

A Riot Account is, well, you! At least in terms of Riot Games, that is. Your Riot Account is your key to access all of our games, which means you can sign into any of our games using the same username and password. Your Riot Account can also be tied to various social sign-ins, but we'll touch on that more later.

Your Riot Account cannot be seen by anyone but you, so be sure to keep it safe by not sharing your username, password, or social sign-in information with anyone!

How is Riot Account different from the old account?

One major difference is that, unlike your old League of Legends account, the new Riot accounts are not region-locked, meaning you can use the same account to play in your home region regardless of where you are logging in. Where the issue is, though, is that these user names need to be unique. That means that if you have an existing user name on, say, a PBE account, you may need to create a new Riot account name that is unique.
How to Create Riot Games Account for LOL: Wild Rift?


To play League of Legends: Wild Rift, you need to sign in with your Google Play, Apple, Facebook, or Riot Games account. If you want to login via the Riot Games account, but you don't have one, then you can follow these steps to create a new Riot Account:

1). Go to Riot Games Accounts' official website.
2). Click on 'Create Account', and you will be redirected to the Account Sign up page.
3). Scroll down a bit and enter your email address under the 'Enter email here' option.
4). Now, click on the Start button to begin the registration process.
5). Select your Date of Birth and then, fill up your Username and Password.
6). Lastly, click on the Next button after reading and accepting Terms and Conditions to complete your registration process.
7). Open League of Legends: Wild Rift on your device and sign in with your new Riot Account.

In addition to this, Riot Games is also distributing in-game rewards to players from South Korea and Japan for logging in using a Riot Games account. Also, you can use this account to sign up for any other game developed by Riot Games.

How to Change the Region for Your Riot Games Account?

Some players have been dealing with some issues regarding their Riot Games accounts. In some cases, players have an incorrect region listed, they find themselves listed in the Singapore region, instead of Indonesia for example. Now, if you're experiencing the same issue, here's how to change your Region for your Riot Games account:

1). Open your smartphone and use the GPS;
2). Open a browser and go to this page;
3). Scroll down and click the "Login" button;
4). Once you're logged in, scroll down and select "Check", wait for the process to finish;
5). Once it's completed, you can immediately change the previous region to your current region.

Now you know what the new Riot Account is, and how to create one! Of course, if you don't want to spend a lot of time upgrading it, you can buy a higher level of LoL Mobile Account. Lolmobileaccounts.com is a safe and reliable place. Our traders are real gamers, and we do not support the use of scamming bots. Buy cheap LoL Mobile Accounts now, and get the best deals today!

wild rift riot account Related News And Guides